Nearly seven years ago, in August 2006, we took our son Lucas to New York for his freshman year of college.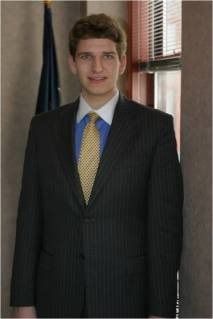 Before deciding whether Lucas should turn down a full scholarship in Indiana to accept a lesser scholarship and attend college in New York, we sought advice from several friends and family members. Terry talked to his boss, a successful businessman, who carefully deliberated before advising New York. "But it'll change him," Mac wisely counseled.
Seven years is more than one-fourth of Lucas's life now, one-fourth of his life spent in the "capital of the world". So many events in these seven years: two NYC hurricanes, two world championships for our beloved St. Louis Cardinals (including the 2006 NLCS game seven victory in New York over the New York Mets), the 5th and 10th anniversaries of 9/11, the building of One World Trade Center, two Presidential elections,
one highly visible shooting near the Empire State Building
, o
ne accidental private plane crash into a New York skyscraper
. In Lucas's own life, several milestones: becoming Catholic, college graduation, Series 7 certification to become a licensed stockbroker during an internship at a New York securities firm, three years working as a paralegal for a New York law firm, accepting a scholarship to attend Vanderbilt Law School. Lucas attended countless Broadway shows, concerts at Carnegie Hall and Madison Square Garden, Yankees and Mets games, walks and runs through Central Park, dinners at famous restaurants and Chinese delivery in his apartment. (He claimed no desire to fight the Times Square New Year's Eve crowds.) He learned important lessons about daily life as a New Yorker: Seamless Web, fluff-and-fold at the corner dry cleaners, pay the price for well-made shoes and get them repaired several times before replacing them, run for the subway train at the bottom of the stairs even if another is coming in three minutes, black coffee and a bagel make any morning better,
the 2nd Avenue Subway project is almost complete.
Thinking about Lucas's imminent return (escape?) from New York, I reflected a lot this week about the past seven years in my own life. Friends with teenagers leaving soon for college, take note: your life does not end when your children leave home! My fears of an empty life after kids proved completely unfounded. In the past seven years, I changed careers and earned teacher certification (in three states!), substitute taught in three school districts, made more new friends than I ever imagined making at this stage of my life (70 of the friends on my Facebook list are people I met in the past seven years), moved to a new state and city. Before the move, we grieved the loss of Terry's parents and my Dad. Our daughter Cassie started college two years after Lucas, graduated and got married last fall, and is pursuing her teaching career in Indianapolis. Life is fuller and happier than I ever imagined. Oh, we also became Catholic during these seven years, another development I never saw coming and for which I am truly grateful.
New York did change Lucas. He matured in more ways than I can list. It changed me, too. I grew to love/hate the city I first visited in 2006. To paraphrase Charles Dickens, New York is the best of cities and the worst of cities. It IS the city that never sleeps and never stops. Eight million people crowd into the tiny island of Manhattan every day and navigate its streets, sidewalks, subways, coffee shops, offices and apartments. The city boasts an incredible infrastructure which works amazingly well
most of the time
. When something fails (a subway track fire the night of the recent All-Star week home run derby, for instance), New Yorkers find another way to get where they need to go. In the years following the 9/11 tragedy, many observed New Yorkers became kinder and more patient with tourists. We found New Yorkers to be helpful and polite in our early visits. Recent visits: not so much. Life in such crowded conditions undoubtedly leads to chronic impatience and annoyance. (Perhaps I'm thinking of my recent visit during a record-setting heat wave?)
When Lucas recently mentioned to a college friend he finally felt ready to leave New York after seven years, the friend said, "Ah, you're in Joan Didion territory" and recommended
Didion's well-know essay "Goodbye to All That".
I read it for the first time this week and loved it. She vividly portrays the love/hate relationship I feel with the city. The night we flew home after leaving Lucas in New York, in late August 2006, rain delayed our flight for several hours. Sitting on the tarmac at JFK, tears rolled down my face off and on for hours. My heart ached with uncertainty and fear. As we drive away from the city next week, part of me will relax and unwind. I will no longer tune in to the morning news shows thinking of my son in the middle of that city. I will thank God for lessons learned which helped my faith grow deeper and stronger. I will be glad for the ways the city changed Lucas and changed me.
recent photo by
Michael Kaal
, used with permission.